PRAY, TESTIFY, ENCOURAGE
祷告, 见证, 激励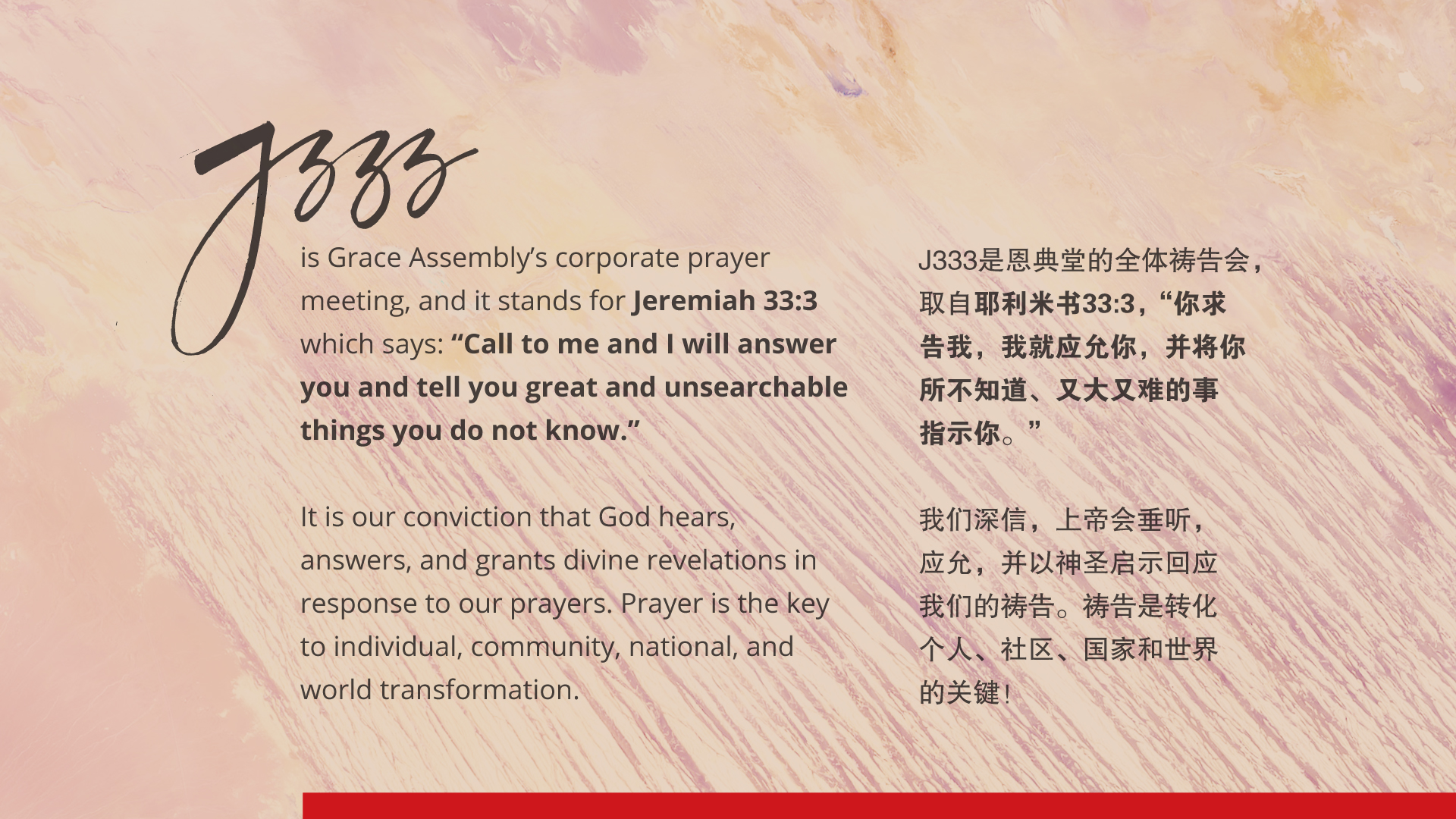 We believe that God is calling His church to go on our knees and pray, especially in the spaces of our own homes. May we continue to gather as a church, from wherever we are to seek God to reveal His hidden things.
When does J333 prayer meetings take place?
Every Wednesday, at 8pm
Online and On-site (please refer to schedule below)
To participate in our ONLINE J333 prayer meetings, please contact us at 64100831 to obtain the passcode in advance.
Booking of tickets will start at 12 noon on the Friday prior to the on-site prayer meeting.
What is J333 Supernatural?
Our J333 Supernatural ONLINE prayer sessions for those who need physical healing.
Do invite your loved ones who are seeking physical healing to join us for our J333 Supernatural prayer meetings!
我们相信,神正在呼召祂的教会屈膝祷告,尤其是在我们自己家中。 愿我们作为教会同心聚集,继续在各处寻求神向我们启示祂那隐秘之事。
J333什么时候举行?
每逢星期三,晚上8点,是我们特别设立的祷告时间!
在线与现场 (请查阅以下时间表。)
如果您想参与我们的在线祷告会,请提早致电64100831联系我们,获取密码。
J333超自然是表什么?
我们的在线J333超自然祷告会是为了服侍身体上有病痛的人而设的。
请让您们身边的人知道,并邀请那些身体需要主医治的人加入我们来临的祷告会!